JOBS AND CAREERS
WINEMA has become a term for high quality cutting machines as a manufacturer of CNC-controlled rotary indexing maschines for customized parts. With our leading technology and innovative concepts, we develop and produce machines with economical production for the complete machining of workpieces from bar or for reworking of pressed parts for our successful customers.
Whether you are a scholar, student, graduate, specialist or manager: We will pep up your career!
Ihr Aufgabenbereich
Planen und Anlegen von Montage- und Fertigungsaufträgen
Kapazitätsplanung und Materialdisposition
Für unsere Fertigung
Disposition Eigen/ Fremdfertigung
Terminkontrolle
Anlegen von Stücklisten in unserem ERP System
Bereitstellung von Fertigungs-/ Montagedokumenten
Kalkulation von Herstellkosten
Fachliche Anforderungen
Technikerausbildung mit mindestens 3 jähriger Erfahrung als Arbeitsvorbereiter im Maschinen/- Anlagen oder Apparatebau
Sicherer Umgang mit ERP- oder PPS Software und MS Office
Offene Kommunikation und sicheres Auftreten
Strukturierte, verantwortliche und exakte Arbeitsweise
Ihr Aufgabenbereich
Parametrieren und Einrichten von elektrischen und hydraulischen Antrieben und CNC-Achsen
Erstellen und Einfahren von CNC- Programmen für unsere Maschinen mit bis zu 20 CNC Achsen in verschieden Kanälen.
Begleitungen der Maschinenabnahmen, Kundenschulungen/ Einweisungen in unserem Hause.
Aufstellung und Inbetriebnahme der Anlagen bei unseren Kunden
Durchführen von Serviceeinsätze auch im Ausland
Fachliche Anforderungen
Erfolgreich abgeschlossene Ausbildung zum Mechaniker oder Mechatroniker mit einschlägiger Weiterbildung sowie den Anforderungen entsprechende Berufserfahrung
Fundierte Kenntnisse in mechatronischen Systemen
MS-Office Kenntnisse
Gute Englisch Grundkenntnisse
You have not found the right position but you wish to join the WINEMA Team? Then you should send us your application: We look forward to hearing from you!
Training: Career start with a future
Discover a career with a future for you: We offer training in the technical and commercial field. Whether you are a school trainee, trainee or student – you will find your way to a job with perspective. We will support you with distinctive practical training and motivated occupational areas on the way from being a school graduate to being well-equipped for the future, a young professional. You will study at a vocational school and learn in our company: this is the dual system.
We offer the following training opportunities:
Mechatronics
Industrial Mechanic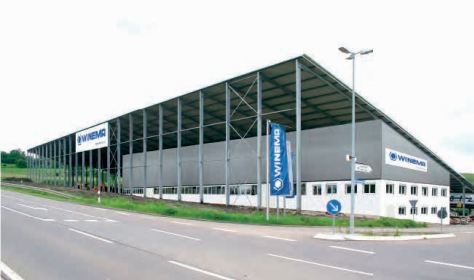 Why WINEMA Maschinenbau GmbH?